Enjoying the Holidays as a Single Dad During COVID-19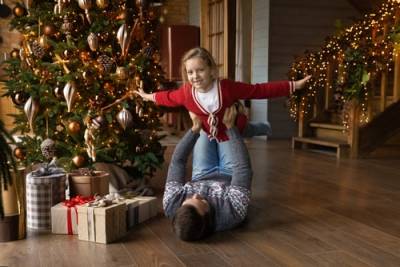 The holiday season is upon us, but in 2020, it may look different than it ever has before. The ongoing COVID-19 pandemic has thrown a wrench in many families' plans, and as a divorced dad, it could potentially make the season very difficult for you. You may already be struggling to adjust to the reduced amount of time you are able to spend with your kids after getting divorced, and you're probably not looking forward to more isolation during a time when you normally spend time with friends and family. Fortunately, by following these tips, you can be prepared for the holidays, protect your family's safety, and make the most of this time:
Make plans for holiday get-togethers - Many families are choosing to forego their usual plans to meet up for Thanksgiving, Christmas, or other holidays. If you choose to do so, you can still make arrangements to be together by holding a family Zoom call. If you do plan to meet in person, be sure to follow the CDC's recommendations for safety, including wearing a mask, keeping a six-foot distance from those who do not live in your home, washing your hands often, bringing your own food and drinks, and using disposable food containers, plates, and utensils.

Find virtual alternatives to holiday traditions - You may usually enjoy holiday activities outside of your home with your kids, but this may not be possible right now, so you'll want to find ways to participate in these traditions without leaving your home. For example, rather than visiting Santa at the local mall, you could make arrangements to hold a video call with a friend or family member who plays the part.

Get your shopping done online - You may usually spend Black Friday hitting the stores to make the most of the big sales, or you may do your holiday shopping at stores throughout your local area. Due to COVID-19, many retailers are offering great deals for those who shop online, and this can allow you to buy presents for your loved ones without risking your family's safety.

Come up with fun indoor activities - When you're cooped up at home with your kids during the holidays, you can avoid cabin fever by finding ways you can have fun together. This is a great opportunity for making holiday-themed crafts for your home or your Christmas tree, or you could even work together to make handmade gifts for your loved ones.

Find ways to spend time with loved ones - The holiday season can be tough for single dads, and you may feel alone during a time when you are supposed to be surrounded by loved ones. Even if you can't meet up with friends or family in person, you can maintain contact by regularly holding video chats with family members or making plans to play video games online with your friends.
By making plans for the holidays, you can protect your family's safety, enjoy your time with your kids, and be ready to reach out to loved ones for help with any difficulties you experience. If you need to address legal issues related to your children or your divorce, a skilled family law attorney can provide you with advice on how to proceed and work with you to protect your rights and provide for your children's best interests. This will not only help you get through the holidays successfully, but it will also make sure you are prepared to approach the new year successfully!
Sources:
https://www.cdc.gov/coronavirus/2019-ncov/daily-life-coping/holidays/thanksgiving.html
https://www.gayswithkids.com/life-plus/holidays/planning-for-the-holidays-during-covid-19