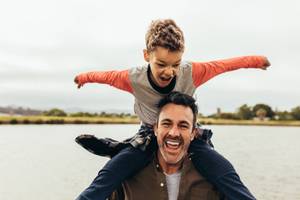 Going through a divorce can turn your world upside down. If you're a father who has will be sharing custody of your children after a divorce, both you and your kids need time and space to heal. Even if you feel unsteady, you want to help your kids feel settled again. Here are a few tips on self-care that can help you and your children relax during this stressful period in life.
Become a Role Model
When you're raising your children as a single father, becoming an exemplary role model is one of the best things you can do for their well-being. For instance, by taking steps to reduce stress in your own life, you'll be able to lower the overall stress levels for your whole household. If you're currently working from home, coming up with a consistent schedule for yourself and your kids is the best way to keep everyone on track and create a solid foundation for your children.
Give Them Free Time
You might be tempted to schedule lots of activities for your children to distract them from the stress you're all going through as a result of the divorce. But children need plenty of free time, too. Giving your children downtime when they can play without schedules or structure is great for their mental health. The Homeschool Mom states that kids with fewer time pressures are often more creative and have the opportunity to discover their own strengths.
...