How Dads Can Practice Self-Care During a High-Conflict Divorce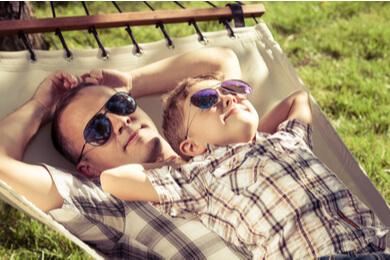 The term "self-care" refers to taking care of your physical, mental, and emotional wellbeing. The importance of self-care during a divorce – especially a high-conflict divorce- can hardly be overstated. Although articles suggesting good self-care practices are often geared toward women, men are just as in need of self-care as anyone else. If you are a dad going through a contentious divorce, you know just how stressful and frustrating it can be. Consider the following tips for prioritizing your mental wellbeing during this challenging period of your life.
Give Yourself Some Slack
If you are like most fathers, your "to-do" list never ends. You probably juggle homework, sports or extracurricular events, vehicle maintenance, household chores, and much more on a daily basis. During a stressful divorce, it is important to give yourself some slack. Perhaps you want to renovate the bathroom or fix a noisy garage door but you simply cannot find the time. A high-conflict divorce takes a ton of time and emotional energy. You may need to put off some projects until after the split – and that is perfectly okay.
Do Not Be Afraid to Ask for Help
The American Psychological Association reports that men are much less likely to seek professional mental health treatment than women. As a dad, prioritizing your mental wellbeing benefits both you and your children. Consider reaching out to a therapist or divorce coach to get the support you need. One major benefit of therapy is that your discussions are confidential. That means that you can vent your frustrations without worrying about how it will affect your divorce case.
Work With a Lawyer Who Understands Your Situation
Whether you and your soon-to-be-ex disagree on the division of assets and debts, child custody, child support, or other divorce issues, a high-conflict divorce is just as complicated legally as it is emotionally. This is why it is crucial to work with a lawyer who is knowledgeable and compassionate. Having a skilled legal advocate on your side can make all the difference in the world. An experienced lawyer will help you understand complex legal matters, protect your rights, and advocate for your best interests throughout the case. This can significantly reduce the stress and aggravation you experience during the case.
Contact a High-Conflict Divorce Lawyer For Help Today
High-conflict divorce cases involve unique challenges. It is important to work with a lawyer who understands how to overcome these challenges and fight for a divorce outcome that best serves you and your children. Contact a high-conflict divorce attorney to get the help you need today.
Sources:
https://www.healthline.com/health/mens-health/giving-men-permission-to-take-care-of-themselves#A-call-to-self-care
https://www.ourfamilywizard.com/blog/5-ways-improve-your-self-care-during-divorce
https://www.apa.org/monitor/jun05/helping#:~:text=Indeed%2C%20dozens%20of%20studies%20and,the%20same%20or%20greater%20rates