How Dads Can Protect Their Rights During a High-Conflict Divorce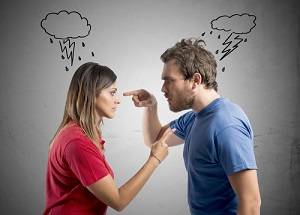 Getting a divorce is never easy, but it can be especially difficult in cases where spouses are argumentative, hostile, or unable to cooperate with each other. If your spouse is a narcissist, or if you need to deal with high-conflict situations involving your children, your property, or other divorce-related issues, you will want to understand what you can do to protect your rights and reach a satisfactory outcome to your case. Some steps you can take to achieve success in your divorce include:
Set boundaries - During your divorce, you'll want to focus on resolving legal issues rather than arguing about why your marriage ended or who was to blame. To make sure your spouse doesn't drag you into emotional arguments, be clear with her about what topics you're willing to discuss, and don't be afraid to end a conversation that is getting heated. By keeping things as professional as possible, you can work on reaching a workable divorce settlement that will meet your needs and protect your children's best interests.
Keep documentation - If your spouse has lied to you about any issues in your divorce, changed her mind after making agreements, or acted in an abusive or harassing manner, you'll want to preserve any evidence of this behavior. Make sure to save any emails or text messages you have sent to each other, as well as any other evidence showing that your spouse has behaved unreasonably or inappropriately. If necessary, this documentation may be used as evidence during divorce litigation.
Avoid involving your children in your disputes - You should do everything you can to avoid exposing your children to conflict between you and your spouse, including refraining from making negative comments about the other parent in front of them or asking them to send messages between the two of you. In a high-conflict situation, you may need to make arrangements to protect your children's best interests, such as picking them up and dropping them off in a public place or setting rules for phone calls or electronic communication.
Take a break from social media - Even though you may be tempted to complain about your spouse or your divorce on Facebook or Twitter, it is best to avoid doing so while your case is ongoing. Disparaging comments about your spouse could be taken out of context or used to argue that you aren't willing to work together to protect your kids' best interests. Other information you share could also be used against you during the divorce process, so it's often a good idea to avoid social networks altogether until your divorce is over.
Get legal help - The best way to make sure your rights are protected is to work with an experienced divorce attorney. Your lawyer can help you understand the best ways to address your legal issues while advocating for your interests in court hearings. They can also help you take the right steps to demonstrate that you can provide for your children's best interests as you determine how to handle child custody matters going forward.
Source:
https://www.survivedivorce.com/high-conflict-personality-divorce